Now a days , Missed call marketing is getting popularity. In missed call marketing, people have to dial a specific number. Interesting point is that no call will be made actually as it will be disconnected automatically. So there is not cost involved for the user. So your audience group will enjoy your content/service at free of cost actually. After they generate missed call, Boomcast will call them automatically with your desired content. Hence they will get your content just by placing a missed call.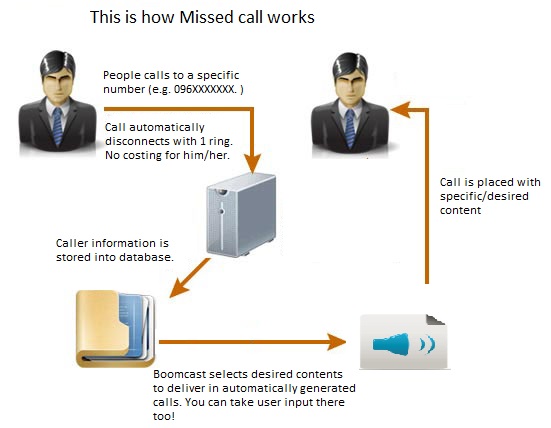 Here are some benefits:
To Inform Specific Information Boomcast missed call service is used to enhance reward campaign for you. Suppose you have introduced rewards based on the usage of your product. You have offered several layers of usages with user. But user do not know their level. You know their level because you have data. Using Boomcast with this data, your users will know their layer and reward. They will also know the targeted usage to reach into next layer or reward of next layer. Thus, you can let specific user know exact information.
Customer Verification OTP verification is one of the most common method for customer verificaition, Missed call alrert is good alternative of this. When your customer signs up for any purpose, they can place a missedcall to a specific number.
Subscribe/unsubscribe to notification settings It is important to ensure that customers are not spammed by you. If you're unsure about the kind of updates a customer would like, you can ask them to opt in or opt out of your promotional campaign list using missed calls. Your customers may or may not want to get update from you. Also you may have many categories to promote. So Boomcast missed call marketing can help you. When they will receive call, they can select category or unsubscribe.
Voting Want to run survey or voting campaign? Just use Boomcast Missed call service. People will give missed call and will get call in return where they will press key to answer question or select candidates.